Clouds Maplestory Guild Recruitment Post
Hello and Welcome,
For anyone who is interested in joining the Clouds Guild, this post is for you. For those who have no idea what Im talking about, and don't know what Clouds is, please refer to the Clouds Guild page and scroll down to the comments section. This post is going to be quite long so only those who are really interested about this guild should read through.
Clouds is about having fun and chilling, that means this guild isn't about the grind or how much money you can get. Its purpose is for when you have been grinding all day and want to just relax, talk with friends and do something fun. I want anyone who is joining this guild to be a well experienced, and helpful person. My plan for this guild is to eventually become a well respected and powerful guild with a rich and healthy community of players. The guild will provide events, competitions and other benefits for all its members(Info and some of my ideas regarding the guild is given on the comment section of the guild page ). Think of this guild as a VIP club, were you can relax, meet new people, and do fun things. Well anyone who is interested please follow the criteria given below:
There are two recruitment types available:
-The Council
If you want to help me, and be a part of this awesome guild, where you can introduce your own ideas and improve the guild in your own way, the Council Position is for you. There are currently only 8 Positions available, and I am looking for people who are creative and hard working. So my question to anyone who is interested in a council position is, What do you think about this guild, and how do you plan to improve it?
-Cloud Members
If you simply wanna be a guild member, who wants to relax, have fun and take part in fun activities, this position is for you. However anyone who indulges in negative behavior such as trolling and scamming, the Council will find out and you will get jailed/kicked out of the guild. My question for cloud members is why you want to join this guild, and how will this guild be useful for you?
Current Required Recruitments: The positions below are for any type of member, and these positions are very important right now as these are the initial stages of the guild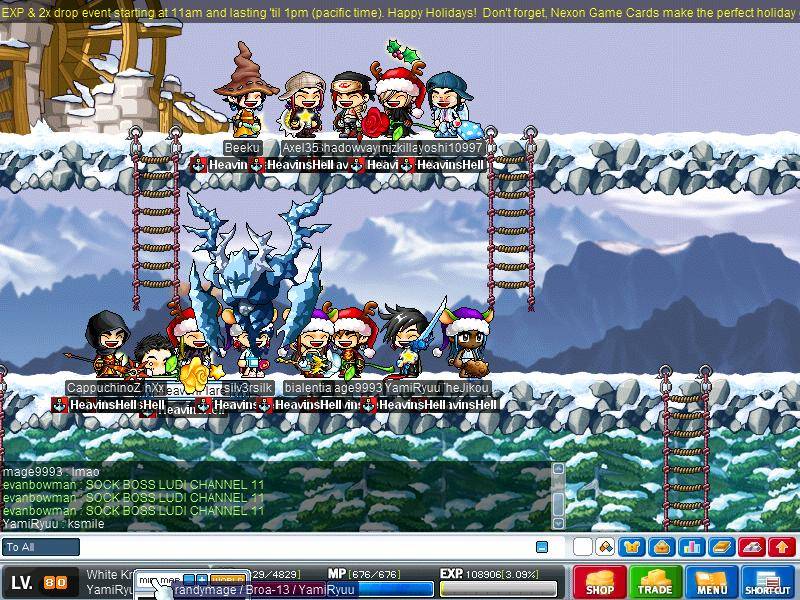 -Designers: 3~5 designers are required, for guild clothing and designing of other materials (Details will be given once recruited). Anyone who is creative and artistic please apply and give me some of ur thoughts on guild clothing. Also if possible send designs of guild capes, and caps.
-Recruitment Agents: 5 Recruitment agents are required, your job will be to recruit new players, advertise the guild, help new guild mates out and help during events.
-Event Planner: 5 Event planners, I think the name speaks for itself.
Future Recruitments:
-Grand Council: 1 Person, Second in Command.
-Heroes: 20~30 People, For those who are interested in being the best of the best. Heroes should be strong powerful players, who have achieved a high level or are good at bossing. Heroes will be constantly fighting bosses, and trying to complete Boss Quests, and Party Quests. Basically to win trophies and put our guild name out there.
When you are sending me an email to join the guild or writing a message on the "Apply to this Guild" text box, follow this format: Name(Online/Real idc), Age, Main class you want to choose, Guild Position you want to apply for, Answers to Question 1 and 2, what kind of Maple-er you are and what kind of Maple-er you want to be in the coming game. If you are enrolling with a friend or friends also write their ms2 names on the message.
Question 1 is the same for all applicants: What do you call a sheep without no legs?
Question 2 is based on the position you want to apply to.
Thank You for reading through this complete post if you actually did, If you think you are qualified please join this guild. If you have any more questions message me on this website.