MapleStory 2 Daily Guide - Enrich Your Every Day!
As an MMORPG, MapleStory 2 has rich gameplay and interesting settings, cute characters and amazing visual enjoyment. If you wander around the world of the game every day, but don't have a clear understanding of what you want to play or do nothing, then see the guide below, which details what you can do in MapleStory 2 every day, even for you planning a very interesting gameplay process!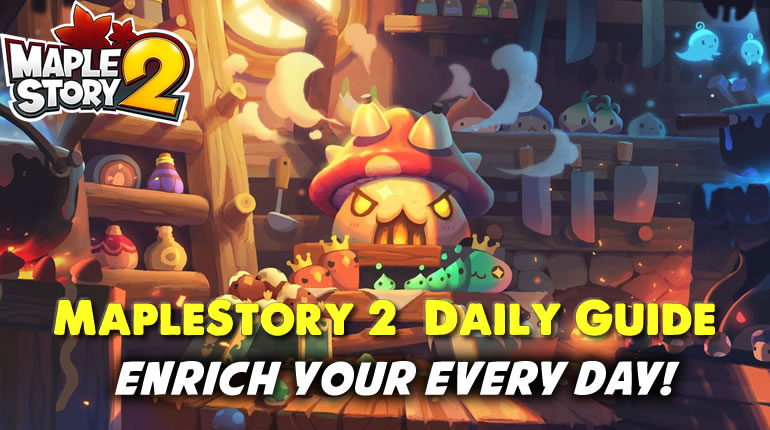 1. Check in attendance at guild - Easy! If you're in a guild, make sure to check in each day by going to your guild pop-up and clicking Check In at the bottom right of the window
2. Check your mailbox - If you sold any items or have been AFK for a bit and have Maple Coins* waiting for you, pick those up!
*Maple Coins event ends on November 8th.*

3. Daily Wonder - If you have a Founders Pack go to the Character icon (1st icon, bottom right) > Daily Wonders, grab your daily freebie!
*This ends on January 31st 2019*

4. 2x Daily World Boss Guide/Event Quests - Each day NPC Aliyar in the center of Queenstown will have two quests for you to pick up.
He will ask you to defeat two world bosses. Pick up the quests first then, when the bosses spawn on different maps, kill them! Killing each boss will complete the quest. Bring both quests back before the expiration date on the quest for prizes! (Additional tips, tricks & ss to be added)
5. Clearing dungeons - You have 10 dungeon runs daily to get item rewards from.
You can see how many clears you have left per day by going to the World Map (2nd icon) > Challenge Map. A 30 cap per week applies as well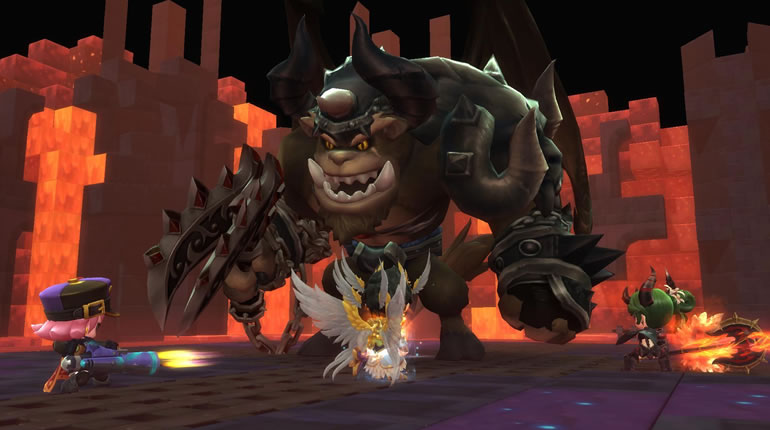 6. Premium dungeon - If you have Premium Club enabled, don't forget to do your premium dungeon once per day!
You can find the premium dungeon here: World map icon to the bottom right > Challenge Map > Premium Dungeon. You must do this dungeon alone!
7. Special dungeons - Currently if you go to Challenge Map > Special Dungeons, you can clear the Cathy Mart Part-Time Job dungeon 1x/day (resets at midnight).
This is a very easy and fun dungeon that you play in party-mode!
8. Analyze rusted key 1/day - If you have any rusted keys in your inventory, visit NPC Natalie in Tria to have her analyze one of your keys per day at the best price.
If you need to analyze more than one per day, you can, but the price for each consecutive key goes up by a ton. This resets each day, so, if you aren't in a hurry you can have one per each day analyzed for 100k meso.
9. Treasure dungeons - The Abandoned Mine B1 dungeon is a 1-player dungeon that you can clear 10x/day.
To enter the B1 dungeon you need a Abandoned Mine Key (B1), which you can get by having your rusted keys analyzed (see above). Resets daily at midnight.
10. Decoration score - Visit your house once per day to obtain the chest that is awarded according to your Decoration Score (top left when in housing).
To increase your Decoration Score & get the max of 1100/1100, fulfill the requirements by dropping down that menu & placing those items in your home
Note : If you have multiple housing layouts saved, make sure that you leave the one up that fulfills your decoration score when you are not using the other.
That way you don't miss out and get awarded for your layout that doesn't meet the reqs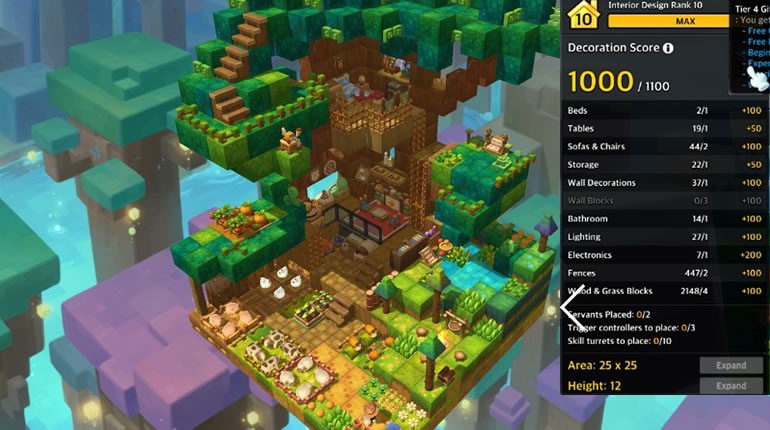 11. Get your daily missions to 300/300 - Under the World Map (2nd) icon at the bottom right, you'll find Daily Missions.
You can do a max of 300/300mp each day to get a total of 6 Gold Mission Complete Boxes. For the first 100 mp, you get 1 box. The second 100 mp, you get 2 boxes. The third and final 100mp, you get 3 boxes.
The boxes contain materials to help improve your gear. All of these missions have different prizes and mini-boxes. There are differeing difficulties, so, read all 3 missions of each set to make sure it's worth doing for you.
Note : You can do more for prizes even if you've met 300/300 mp. If you're poor and in need of mesos, try the Get Rich category! Level Up is an easy category to start with as it usually just as you visiting maps and interacting with breakable items
12. Life Skills - This is the most time-consuming of the bunch, but it's worth it! You could write a guide alone on each of these easily, but here are general tips to start to get your rank up.
You access your life skills through three tabs on the Life Skills button at the bottom right. There are 10 life skills for you to level up each day:
Four gather skills: Mining, ranching, foraging & farming
Four craft skills: Smithing, handicrafts, alchemy & cooking
Two leisure skills: Interior design & pet taming
You can farm/ranch more times in your own home than in someone else's. If you max out each of the items in your own home to 'Impossible', you can still visit someone else's house to get a few additional times until you also reach 'Impossible' on theirs. After you reach 'Impossible', on both, you will be out of tries until this resets for the day.
Note : Before starting any life skill leveling, try checking your inventory's Consumable tab first to see if you have any curio items to use to boost your EXP gains! These are items like: Marjoram supplement, iron mail chain gloves, lavender crystal, pumpkin seasoning, etc. You can save these until you have a lot of leveling to do so that they aren't wasted!
Note : When using curio items to make gains, look over what you have available to farm or craft first and do the things that will get you higher Master Granted first. The duration of normal curios are typically pretty short
Note : Curio items that you use to boost your rank can be made so you may want to do those first! For example, if you have a lot of Ranching to do and you don't have any Zinc Chain Mail Gloves left to increase your ranching by 100% for 40 sec, then go to the Smithing tab and make those first. Prioritize! Refer to the list below to see what curio items you can use
Note : There is an Auto-Gathering badge (Inventory > Badges tab, if you have) you can equip that will continuously gather your items until they are gone
13. Mining & foraging
Mining & foraging are done in areas outside of player housing. As you level up, you will eventually unlock Berg Island (mining) & Alkimi island (forgaging), which you can access on the docks on Lith Harbor after doing a very short quest that will pop up as an exclamation on your character's head at the bottom right of your screen. If you do not yet have these islands, the best way to find where you should go is to access the Life Skills menu, pick an item and click the link on the map listed under Known Locations. You can then go to that map and use the mini-map at the top right to look for the mining/shovel icons.
14. Farming & ranching
Farming & ranching are done in player housing. You can add farm items as well as animals to ranch to your own home by going to Start Furnishing, then the Life Skills tab at the bottom. These unlock as you increase in rank. You can also visit other players houses to farm on their land!
15. Crafting
Crafting can be done in the Life Skills menu while you are on any map. It's important to hover over the materials you are using to craft as it will tell you if those materials are also used in any other crafts - then you can prioritize your materials if you're limited. For example, if you hover over Mined Opal under Smithing > Zinc Chain Mail Gloves, you'll find that the mined opal is also used to make many other Smithing & Handicrafts items
Note : Crafting can be a bit more straining on your computer.
16. Here is a list of curios you can use to boost your Life Skills in order of least powerful to most powerful
Mining curios (Made by Handicrafts): Chicken feather pouch, pigskin pouch, woolen pouch, deer hide pouch, eagle feather pouch, griffin feather pouch
Smithing curios (Made by Smithing): Opal smithing slate, sapphire smithing slate, diamond smithing slate, amethyst smithing slate, amber smithing slate, pearl smithing slate
Handicraft curios (Made by Handicrafts): Snail shell handicraft slate, milky handicraft slate, turtle shell handicraft slate, longhorn handicraft slate, horsehoe handicraft slate, dragon horn handicraft slate
Farming curios (Made by Alchemy): Marjoram supplement, rosemary supplement, mandarin supplement, tea supplement, bergamot supplement, patchouli supplement
Alchemy curios (Made by Alchemy): Lavender crystal, lemon balm crystal, jasmine crystal, oregano crystal, basil crystal
Cooking curios (Made by Cooking): Pumpkin seasoning, pine mushroom seasoning, green onion seasoning, medicinal mushroom seasoning, cucumber seasoning, agaric mushroom seasoning
Foraging curios (Made by Cooking): Rice chips, apple chips, orange chips, banana chips, tomato chips, pear chips
Ranching curios (Made Smithing): Copper chain mail gloves, zinc chain mail gloves, iron chain mail gloves, nickel chain mail gloves, tungsten chain mail gloves, cobalt chain mail gloves
The above is a guide to daily content. Want to see the latest guide and more interesting news? Please continue to pay attention to our website, maplestory2-mesos will provide the best service for players!