MapleStory Job Skills Guides(1st - 4th)
Hey guys, welcome to Maplestory2-Mesos, have any of you guys meet problems with job skills, I mean all the job skill from 1st to 4th, it will not take too long time to reach 150, if you use the ways that I'd teach you today:
-First job skills were normal compared to other classes, except you know, now we can hurricane as a first job skill, which was extremely fun.
-Second job was complete trash, worst set of skills I've seen.
-Now third job was actually a lot of fun. I barreled through using those dash skills and the main dps skill had better range and cooldown than previous skills guide. I made sure to train on flat maps and zooming back and forth, while not funded (I was only picking up equips that dropped, I didn't even open my burning boxes until 150) only really took 2 dashes, but it usually only took 1 Starline 3 to clear.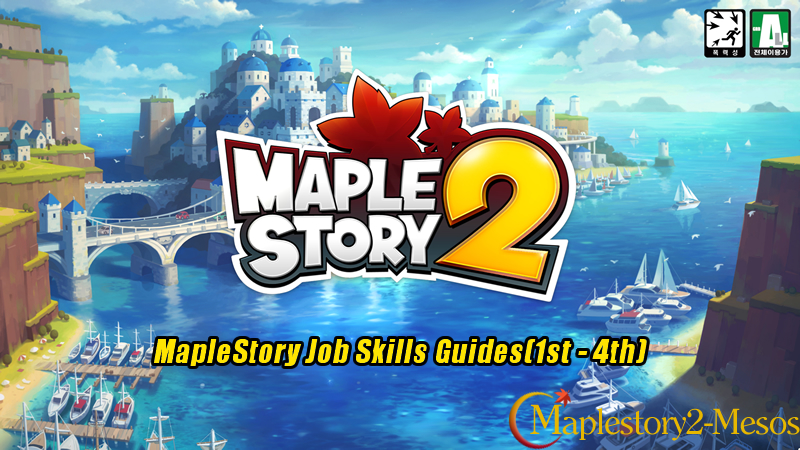 Now as for complaints~
-Their flash jump is extremely awkward. But honestly it doesn't matter because we have so many other movement based skills. It should be changed to a regular flash jump or just removed completely.
--Turret deployment lasts barely anything, and it's annoying to have to recast it just to have something damage an extra platform for me while training. While bossing it's more reliable since you can keep casting it near the boss, but still lots of maplestory mesos as support.
---To go along with the above, we have MANY buffs, I've played a lot of classes but this is the most buffs I've ever had, without adding decent skills. And to top it off, they all only last about 2 minutes, so I'm constantly having to rebuff. Not to mention one of the buffs increases your health, so if it runs out and I recast it, now I have a chunk of empty health bar, which is always kind of annoying. That being said these buffs make Jett pretty tanky health wise so they're nice to have, just wish they lasted at least 3 minutes.
----Cosmic Upheaval barely worked 1 out of every 10 casts, and that's without other people in my map, I know having people in the map makes mob moving skills act even more stupid.
For 4th job skills, they were pretty underwhelming, for the exception of the controversial Starfall.
-Backup Beatdown, while seems cool, a mobbing skill that works like Hurricane, just didn't do much damage and the range on it isn't that great.
--The bossing skill Starforce Salvo, barely did more damage than Backup Beatdown. For something targetting only one monster, it should do more damage. =/
---Starfall out dps'd both of the previous skills just by holding down the button. It's a gigantic mana waster, but it's worth it not only in training, but bossing too. So now we're losing this to a 60 second cooldown. I personally think it should have been something closer to a 24 second cooldown. Still very good, but not spammable. As much fun as it was, it did annoy many other players if Jetts spammed this in crowded servers or started KSing people.
So now Starfall is 60 seconds, but in terms of range, it's actually one of the worst ultis I've seen, vertically. So now it's worse in every way compared to other ultis since it can't hit multiple platforms unless they're close to each other.
Alright, I have told all of you what I know about the job skills in MapleStory, then it's yours show time, just enjoy a better world in game, and if you need the support of maplestory mesos, do not forget that Maplestory2-Mesos is the professional supplier for maplestory products!