Maplestory Training maps guess how many we have?
This is a list of maps in the game in each major area which contain mobs. The way I made this list was by looking at the in game map and adding any none city map to a list. These maps could have enemies or just 1 npc it makes no difference, if it wasn't a city I add it to the list. This list doesn't include the following areas since they were beginner areas and as such don't matter to this list. The areas that were not included are: Maple Island, Ereve, Rien, Vulpes (where shade starts) and Arboren (where beast tamer starts). Hidden Streets were also not included since most of the aren't visible on the in-game map. I also didn't include party quest maps like Dimensional Invasion and Romeo and Juliet. Take in mind these are all rough estimates, once again some of these maps have nothing, but considering party quests and hidden streets aren't included, the number of maps with mobs should be close to this number anyways.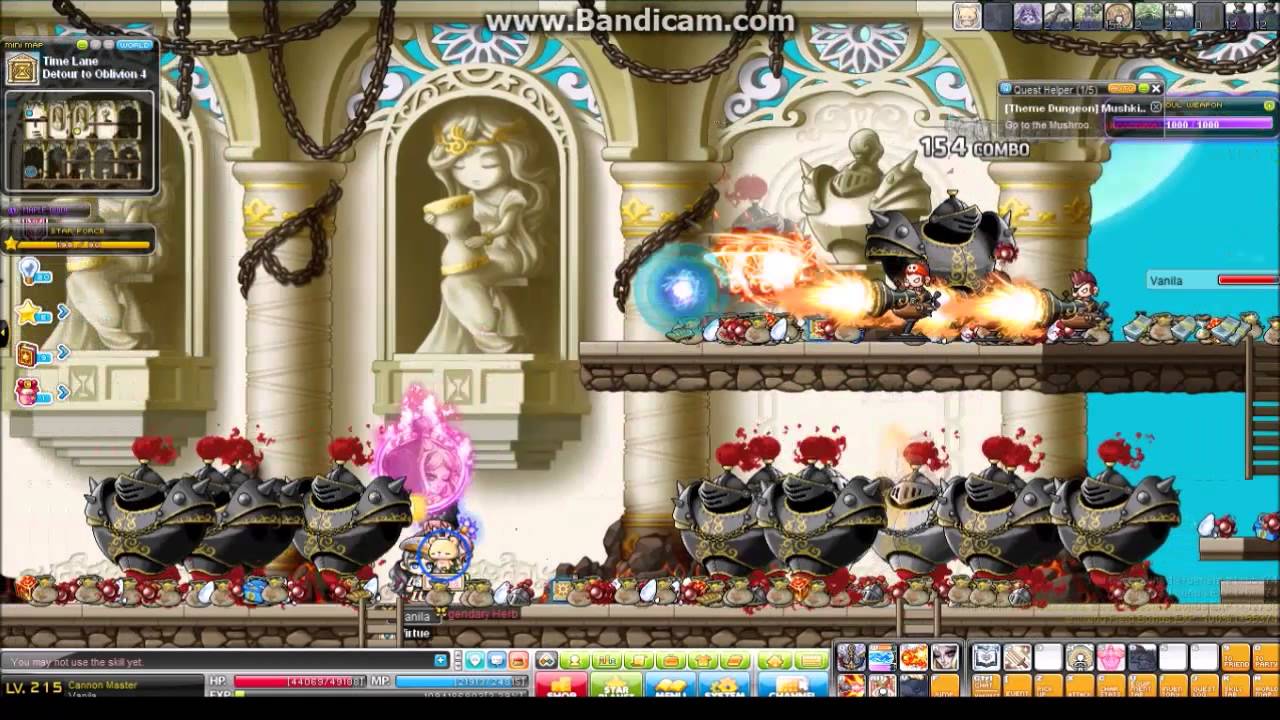 Victory Island Maps
Perion 18
Ellina 21
Ellinel 19
Henesys 13
Mushroom Castle 19
Six path and surrounding areas 7
Kerning City 14
Sleepywood 18
Total 129
Rien Straight 14
Ossyria
Orbis 24 Including Orbis Tower
ElNath 29
Lion King's Castle 25
Total 78
Aqua Road 19
Ludus Lake
Ludibrium Left Tower 7
Ludibrium Right Tower 4
Clock Tower 31
Lowest Floor of Clocktower 13
Ellin Forest 14
Fantasy Theme Park 9
Total 78
Nihal Desert
Ariant 18
Magatia 16
Total 34
Mu Lung Garden
Mu Lung 19
Herb Town 9
Golden Temple 13
Total 41
Edelstein
Edelstein 14
Verne Mine 19
Scrapyard 26
Total 59
Minar Forest
Leafre 42
Colossus 22
Kritias 27
Total 91
Temple of Time 30
Gate to the Future
Henesys Ruins 31
Twilight Perion 18
Total 49
Pantheon 19
Heliseum 25
The Far East 20
The complete grand total of maps with mobs in the game is approximately 642. Now why is this number important, well can any guess the amount of maps people train on because they're the only viable option? It's less then 20 not including party quests like romeo and juliet and dimensional invasion. People tend to do there starting quests till 30 or they will go to golems then curse eyes to 30. Then players do random job quests or Fairy Academy and Golden Beach till 50. After that DRAKES, and so on and so on. So people go to these maps to train and that's like 5, then Sahel 2, West Leafre Forest, then most people just do monster park, or Romeo and Juliet so that's another 4. 9 Maps and we're 140. Dimensional Invasion till 165, 10 maps. Then a stronghold star force map till 190, 11 maps. Warrior Grounds to 205, 12 maps. Then 3 Scrapyard maps and bam 250, with a total of 15 maps. I could get to 250 on 15 maps AND THERE'S 600+ MAPS IN THE GAME. I'm not saying nerf these maps, I'm saying we need more maps like these 15 maps here. I think that these 600+ maps should be redesigned so that people aren't fighting for maps, granted with the popularity of the game going down maybe redoing 600 maps isn't necessary but for the people that play the game consistently we need more options. If you agree please post your opinion, the more people who speak up the louder our voice is. Thank you for taking the time to read this.