MapleStory World/Server Transfer Event Thoughts
Yes, I'm back, welcome to maplestory2-mesos again, you know, some MapelStory players are confued now, they don't know whether they should move to another ms server, if they friends choose to stay. Let's analyze this server transfer event:
Take this step further and see what kind of consequences this event will have in the future. Imagine a new player who has just joined MapleStory, he or she has to select a server to play on. The first thing they see is a list with a whopping 17 servers + Reboot. Now they start clicking on each of them and see almost every single one seems to be empty. Then they click on Bera or Scania and suddenly see a server full of people. I can't speak for someone else but my decision would be easy at that point.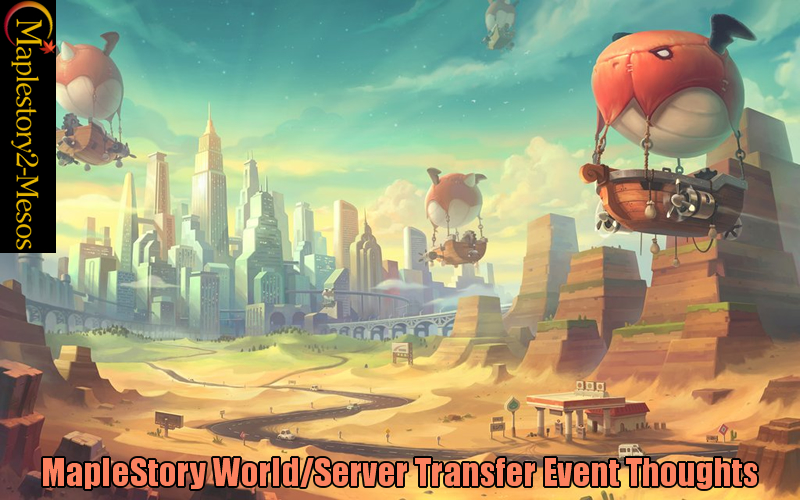 This also leads to my next question, and the key question that could have prevented this mess in the first place. Why does MapleStory tunnel services to lower latency and still need this many servers? I know that when you break it down into alliances there's technically only 6 + Reboot, but a new player doesn't know that, they still see an abundance of worlds to choose from. Wouldn't it be much better, especially now that it's pretty much inevitable, to merge all these small allied servers into one so that we end up with a cleaned up serverlist that's much more manageable?
And I know this will require a lot of work but wouldn't the best case scenario be to just take Grazed, Mybckn and Khroa and squeeze them all into a fresh new world without the literal dozen of separate servers that all lead to the same place anyway.
People aren't solely judging population decrease on the free market. The free market does show a bit, but it is more or less an accurate showing of the market and the current state it's in on the server. If you actually play on these servers I mentioned though, there's no false claims. You can have a look around yourself and you'll see the population is far lower than what it used to be. It's indisputable at this point even without the population data Nexon has.
Finally, We shall advise with our friends as to what is to be done, yes, we play MapleStory with our friends for more fun and if we have no friends in game, why we keep playing MapleStory?