My Top Seven MapleStory Memories
Yes, I have been playing MapleStory since 2006, it's already 11 years now. MapleStory was with me these years, and lot of fun memories come from the times! I am so happy to share my top seven MapleStory memories with you guys:
1. Getting to 3rd job on my first ever favorite character, a thunder breaker, back when I was a kid.
It's so amazing how they threw around green sharks and transformed into stylish, blue dudes with spiky hair.
I even made a youtube video showcasing the skills they had (with terrible choices of music of course...).
I never made it to level 120 though, the level cap back then for cygnus knights.
2. Playing a buccaneer.
I was such a big fan of the transformation skill that thunder breakers had, that I had to play a buccaneer, except this time, I made the new character into a female character. The female sprites for the transformation and super transformation skills were really cool too, with the ponytail and all.
I also loved how buccaneers slid around backwards while elbowing monsters in the faces.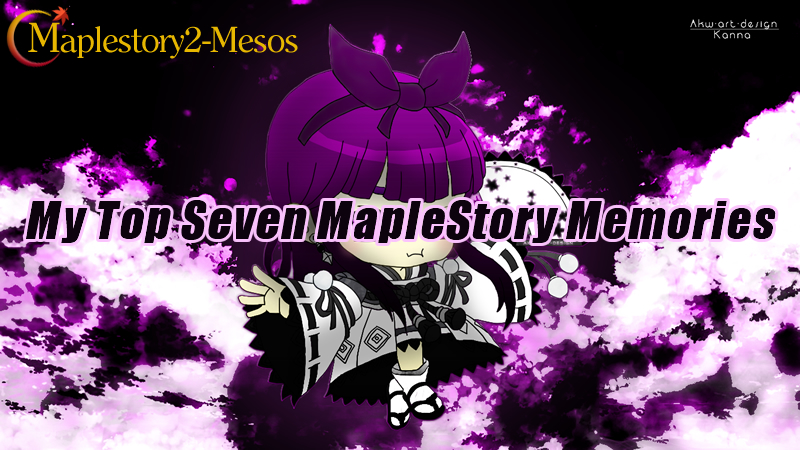 3. Reaching 4th job on a fire poison mage.
Again, I loved the skills they had.
I loved how they stared down enemies to death with their old paralyze skill animation and how they summoned frogs to belch out toxic clouds.
I loved the little "witch" theme fire poison mages had back then.
4. I know someone proposed to me randomly in Kerning City when I was passing by. For some reason I accepted it, because why not see what happens lol! We got married right away! A few hours later...
5. I feel sad When the curse filter was updated so harshly I could barely communicate, it lead to some hilarious decrypting jobs for sure! I can't find the screenshots at the moment, but my shop was basically only ******** and a few letters XD.
6. I know that someone collecting the hundreds of etc's needed for me to upgrade my Hog to a Silvermane, despite hating farming, because I was too lazy to do it myself, and Someone wanted us to have matching mounts.
7. I find my ture love when I buying mesos from Maplestory2-Mesos, yes, I fall in love with their customer service, she is Julia(her screen name), she is really soft and kind, I always buy from that site, so I can talk with Julia, and then, you know, we are in love....