v.169 - Kinesis Update Preview
Prepare for the next update in the Reboot trilogy: Harness the power of the mind with the new playable character class, Kinesis! Use Psychic Points and telekinesis to attack monsters and control objects. Then, visit the newly updated Mu Lung Dojo, and fight through 41 floors of monsters to receive a ranking and earn Mu Lung Dojo points. One of our GMS-exclusive dungeons, Star World, is returning and you can earn chairs and other rewards. The holiday celebrations continue with new events in which you can collect snowflakes, or countdown to the New Year! All this and more, in the Kinesis update!
;
NEW PLAYABLE CHARACTER: KINESIS
Meet Kinesis, MapleStory's newest character, who uses the power of telekinesis to attack and control monsters and nearby objects! Kinesis starts in FriendStory and is known as a local hero. When certain events spin out of control, Kinesis is transported to Maple World. Kinesis stores up Psychic Points (PP) by using skills, and can then use PP to power various Ultimate skills. The main weapon is the PSY-Limiter, which looks like a bracelet. The Chess Piece is the secondary weapon, and Kinesis can use Magician armor.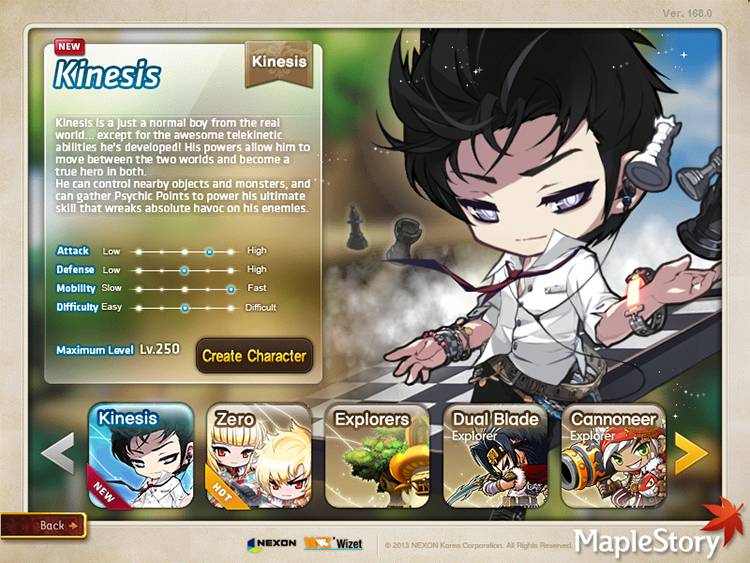 UPGRADED MU LUNG DOJO
The current Mu Lung Dojo is getting overhauled to become ranked content for players Lv. 105 and above. Defeat the monsters on all 41 floors of the dojo to receive Mu Lung Dojo points to spend at the special shop. NPC Lao has stocked up on chairs, damage skins, equips, and more! You can also pick up a special charm that allows you to visit the Mind and Body Training Center where you can automatically gain EXP over time. In addition, there is now a single ranking mode, split into three different tiers; Novice, Skilled, and Master. Based on your ranking, you can earn gloves and titles!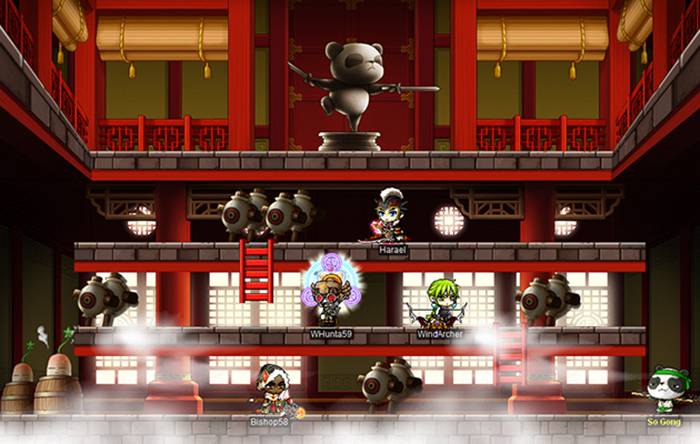 STAR WORLD DUNGEON
One of our GMS-exclusive dungeons is making a return. Visit Star World, a land galaxies away from Maple World, and complete quests to help the residents of MapleStory become constellations. Earn Constellation Coins and exchange them for multiple constellation-themed chairs, medals and more!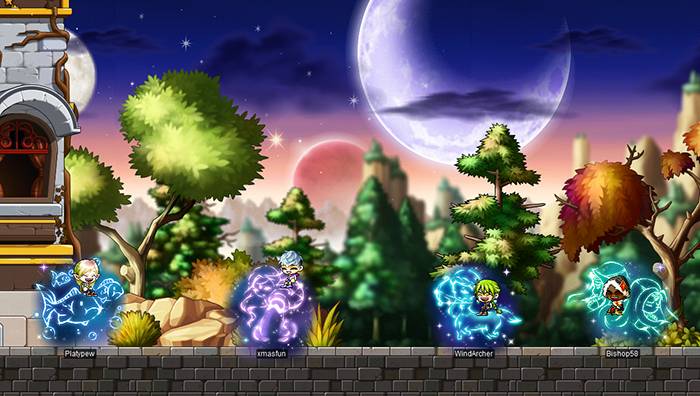 MORE HOLIDAY EVENTS
The holiday celebrations continue in Maple World! Monsters are starting to drop snowflakes. Collect the snowflakes and turn them into NPC Cassandra to receive a Snowflake chair. She has 12 chairs in varying sizes, so keep collecting snowflakes to get them all and earn a Twelve-Chair Bag! Then celebrate the coming of 2016 with a countdown and special events on New Year's Eve.